THE WHOLESOME ME ENEMA KIT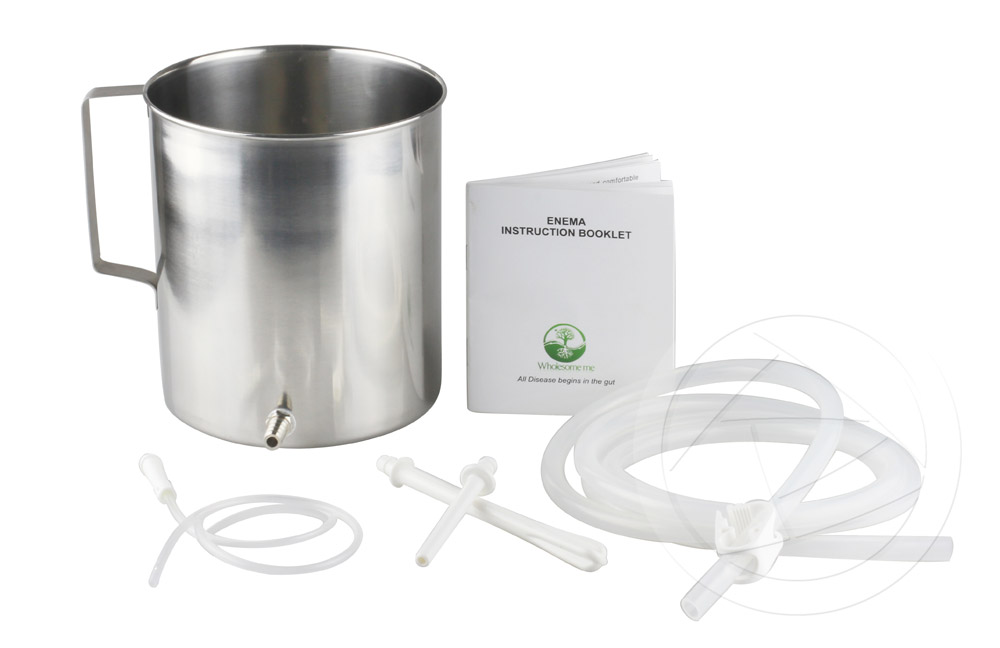 CLICK HERE TO VIEW OUR ENEMA SUPPLIES
The Wholesome me Home Enema Kit Contains
2 ½ Litre Capacity Stainless Steel Clinically Hygienic Enema Bucket

2 Meter length (latex free) clear silicone sterilised enema hose with a pinch clamp

1 sterilised medical grade straight in enema nozzle

1 sterilised medical grade douche nozzle

1 FREE BONUS sterilised 50cm enema catheter tube 4mm (12FG) this additional piece is optional but encouraged to enable a deeper cleanse higher up. (Disposable: suggested single use - *please see further information regarding this item below)

1 Bonus detailed instructions enema booklet
All individual parts are also sold separately
Bonus free Enema Instruction Booklet

The Wholesome me home enema kit has been carefully selected to ensure that colon cleansing for the home or professional use is maintained with good hygiene and toxic free parts. The Wholesome me enema kit is free of the following:
BPA Free

No Rubber
No Latex
Unlike many kits on the market, this one comes highly recommended for GAPS and Gerson patients. With the use of stainless steel in place of plastic buckets or rubber latex bags, you can feel assured that this is a wise choice if reducing the toxic load comes as a high priority. The open two litre bucket allows for a hygienic clean without any undesirable odors. Along with being easy to clean, the parts can be sterilised and used again. We also supply replaceable parts at a low cost so that hygiene is maintained with age. The bucket is easy to refill if more water is required and more importantly, all parts of the kit are BPA, rubber and latex free which makes it a good choice for people who have chemical sensitivities or are prone to latex allergies which are used with enema bags. The clear silicon hose was selected for this kit for a few reasons but most importantly we were more concerned in accommodating people with chemical sensitivities. The 2 metre silicone sterilised enema hose tube is clear so that content flow can be easily seen. The Wholesome me home enema kit is the only enema kit in Australia of its kind with the added reassurance of chemical free parts.
Wholesale Inquires are welcomed to physicians, pharmacies, health stores and select retailers. Please contact us with your interest.
Regular enemas have shown to help with
Removing toxic faecal compaction from the intestinal wall

Relieving constipation and encourage smooth regular bowel movements

Removing parasites

Improving overall energy and ability to focus and learn (this is particularly interesting when seen in patients with autism who's behaviours and hyperactivity improve and communication skills take a leap forward)

Alleviate migraines, headaches and pain

Reducing inflammation

Relieve constipation

Support a healthy colon

Encourage smooth, regular bowel movements
Prescribed Enema Additives
Enemas are an essential part of the GAPS Protocol for gut disorders and the Gerson Treatment Program for cancer patients. The Wholesome me home enema kit is designed to contain all prescribed enema additive options as outlined in both programs and this may include the following to name a few:
Probiotic Enemas

Pure Bicarbonate of Soda Enemas

Coffee enemas

Beetroot enemas etc
Spare Parts for Sale

2 sterilised Nozzles: 1 straight in enema nozzle & 1 douche nozzle
1 set of 5 sterilised 50cm disposable enema catheter tubes: 4mm (12FG) (Disposable: suggested single use) *The catheter tubes are the only part made from PVC. We are working on developing a silicon cathetre and hope to have these available soon.
1 clear silicone sterilised enema hose with a pinch clamp: 2 Meters (latex free)